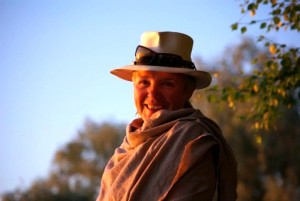 Dee is a former CEO turned Earth rights walker
1. What has compelled you to embark on your pilgrimage?
I was listening to a group of young Earth rights lawyers talk about ecocide and the need for this law to be adopted internationally, in a room full of good folk. People I did not know but resonated with. I felt suddenly as if I had had a bucket of cold water thrown over my head. I thought about what legacy we as a society would be leaving our children. I thought that if I time travelled forward and had to meet with them would I be able to look them in the eye and say, 'Yes, I did my best. I worked to leave you a great world to inherit.'? But action must be taken in your own way, and true to your heart.
2. Do you feel the earth is calling you?
Always and daily. I am of the earth and I am nature. So it is my responsibility to be peace and to be nature. And if I am nature there is nothing to do but to act on her behalf .
3. What's your vision for the actual Earth Walk itself – what do you hope to experience on it?
I hope to continue to connect with people at all levels. To understand that every country I go to is different and each asks a different task of me. So I follow the smoke and get involved. I try to raise consciousness at every place. I talk at government levels and street levels.
To find out more about Dee's walk and work, visit www.earthrightswalker.org